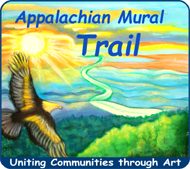 Library Mural Unveiling
"Storybook Lane," a new outdoor Postage Stamp Mural produced by the Appalachian Mural Trail, is scheduled for unveiling at 2:00 in the afternoon on Friday, September 24, 2021. The public is invited. The event takes place outside the Towns County Library, at 99 South Berrong Street Hiawassee, Georgia, telephone: 706-896-6169.
The colorful 7 feet high "Storybook Lane" mural creates a fantasy world of children's book characters from local children's book authors Marcia Hawley Barnes, Brenda Kay Ledford, Amy Ammons Garza and Carroll S. Taylor. The mural is designed to 'save the books.'
"Created to encourage children to actually pick up a book and read, the mural will help return children's interest towards books," says Artist & Appalachian Mural Trail Director, Doreyl Ammons Cain. "The mural should last for decades."
Cain painted the mural and also illustrated the four children's books included in the mural. The mural is painted on
MDO art board
using mural paint that will last for decades with a protective clear coat that ensures longevity.
The Towns County Library
is hosting the outside mural unveiling, which includes outside storytelling, refreshments and meet & greet the Artist & Authors. Both the artist and the authors are displaying books and art to view and purchase safely.
The Towns County Library is scheduled to be featured on the Appalachian Mural Trail where the mural is showcased so that folks can read about and find directions to the mural. Check out
muraltrail.com
where over 125 murals are featured for people to visit and view 24 hours a day.
Image Attached, a small detail of "Storybook Lane" art by Doreyl Ammons Cain Director, Appalachian Mural Trail.